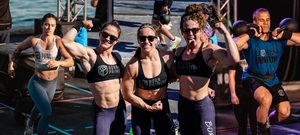 MIAMI 2024 TEAM/INDIVIDUAL GEAR
SPONSORSHIP SIGN-UP
---
Congratulations on your qualification in the 2024 Wodapalooza! You've put in the work to get here, and we are honored to share this experience with you. Whether it's your first time competing or you're an experienced athlete, you've put in some serious training and dedication to become a WZA athlete.
We would like to support you by offering:
4 tops and 4 bottoms for FREE for you (or your team) (over a $1,000 value)
Unique on-site Born Primitive experience
We ask for:
1 post when you receive your gear + 1 post per day at WZA tagging @bornprimitive.
Here's how it works:
Submit Your Application by Wednesday December 20th
Upon review, you'll be contacted by BP
You (or your team) will receive your competition swag
Get out there and crush it!
Best of luck to all athletes from the Born Primitive family! Now go ahead and claim your gear, take pictures, and make memories of this incredible time as some of the best athletes in the world!
SIGN UP AS A TEAM OR INDIVIDUAL BELOW
Team Signup:
Individual Signup: