Born Primitive Co-Founder Mallory Handlon talks CrossFit, Covid-19 and more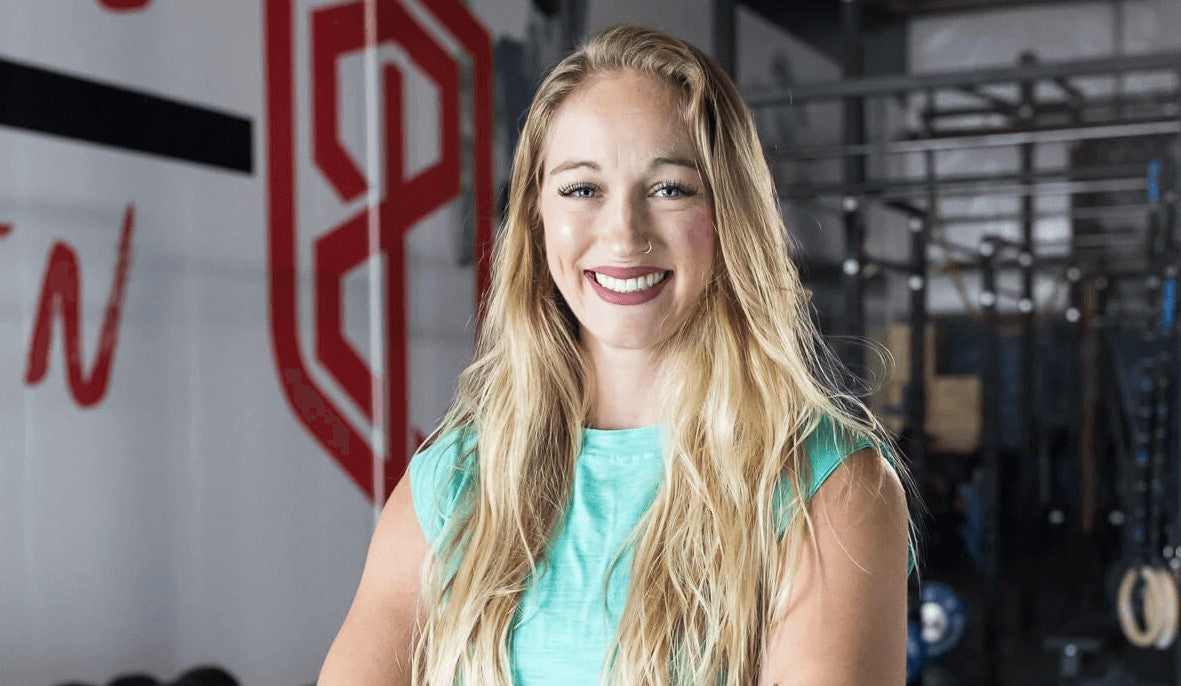 When Barbella Box launched in January of 2016, a Born Primitive Vitality Sports Bra was in the box.
Since then, Barbella Boxes have featured other Born Primitive products, like the Warrior Bra, Rest Day Joggers and Inspire Leggings, and both companies, both woman-owned, have grown exponentially. We caught up with Born Primitive owner and co-founder Mallory Handlon to talk CrossFit, Covid-19 and her latest collection.
HOW DID BORN PRIMITIVE COME TO BE?
My business partner Bear Handlon is active-duty military, but before he joined the service, he competed in the 2013 CrossFit Games on a team. While training countless hours with his teammates, he continued to make uncomfortable contact with his pubic bone while snatching and this inspired him to create the Snatch Shorts. He had played football at Yale University and he basically had a neighbor sew an old football pad into a pair of compression shorts. When he got the prototype he wanted, he found our first supplier. We wanted to be a brand and not just make one product, so we added in tanks and t-Shirts and came up with the name Born Primitive. We launched in March of 2014.
HOW HAS THE COMPANY GROWN?
When we first started Born Primitive, I was a licensed dental hygienist in Indiana. Bear was running the company at night and working for Red Bull full time and I was just handling shipping. With hard work and the desire to continue creating gear that athletes find comfortable, stylish and functional, we were lucky to build a successful brand over the past six years and see exponential growth. Each year, our goal is to see 50% growth or more and we have been lucky enough to do so. It was in 2016 that Born Primitive got to a point where it demanded my full-time attention, so I gave up my dental career to focus solely on the company.
HOW HAVE THINGS CHANGED FOR THE COMPANY DURING COVID-19?
When COVID first hit in mid-March, we had a week of very low sales and it was a bit frightening. We have 14 employees now, so Bear and I are responsible not only for our own livelihoods, but also for the livelihoods of our employees and their families. We joined forces with O2 Natural Recovery on an initiative to help out CrossFit gyms, who are really in a tough spot right now. We called it our "Back the Gyms" Stimulus. There was a promo code for each gym that signed up, and we donated 50% of profits from sales with that code back to each gym. We were able to donate $186,000 in just 10 days to over 2,000 CrossFit gyms, which far exceeded our wildest expectations. We just launched the second part of the program under the tagline #StayForMay, which we are really excited about. Overall, this has been very rewarding because it has allowed us to use our brand as platform to give back to the gym community. If it weren't for the gym owners and their members, our brand probably wouldn't exist.
HOW ARE YOU STAYING MOTIVATED DURING THIS TIME?
When I lived in Indiana, I was a member of Three Kings CrossFit and we used to do a Hatch Squat program a few times per year. It was developed by Olympic weightlifting coach Gayle Hatch and involves doing front and back squats two days a week. One of my employees and I added in bench as well and have been repeating the 12-week program to get us ready for beach days in Virginia. I used to hate squatting, but with this program you truly see results and now it's something I look forward to.
WHAT IS THE STRATEGY BEHIND BORN PRIMITIVE'S CLOTHING DESIGNS?
I feel we have success because I try to create apparel I want to wear and feel comfortable in. If I get a sample bra and it's uncomfortable on my traps or neck, or leggings and they're falling down, they go right into the 'no' pile. A product has to be comfortable enough to wear all day long for me to want to bring it into production. I don't want marks on my shoulders and I don't want to be constantly adjusting and neither does any other athlete. I have no educational background in apparel design, but I have an eye for fashion. I know what I like to wear and what may look flattering on many different body types and that is what I add to our designs.
WHAT HAS BEEN THE HARDEST PART OF DESIGNING CLOTHING FOR MANY BODY TYPES?
I used to get very upset whenever we had negative reviews, but now I realize that you could make an absolutely awesome product that 95 percent of people will love, but 5 percent may be adamant that it is not for them. But what we do is take and acknowledge the feedback and strive to make our product better. For example, we launched our first run of bikinis last October and sold out in hours. After our customers tried the bikini, it had rave reviews but the consensus was that if the top were fully adjustable, it would provide a better fit. So for the second run, we developed a loop system so all the straps would be adjustable, not just the bottom one. We have also implemented a new return system that gathers data on why a return or exchange is being made so we can identify certain trends and make adjustments right away.
YOU HAVE SOME GREAT ADVICE ABOUT PURCHASING LEGGINGS. CAN YOU SHARE?
A lot of our feedback says our leggings run a little small, but we make them snug on purpose. When you first put on a pair of leggings, they should be super tight, because like any pair of pants with spandex in them, they will stretch out as you wear them. Then, they'll regain their shape in the wash. It's a misconception that leggings should fit perfectly the moment you put them on. If they do, odds are they'll be falling down by 5 PM, or midway through your workout.
WHAT NEW PRODUCTS ARE YOU MOST EXCITED ABOUT?
Our new Summer Collection launches on May 11th with over 90 new products. There are tons of awesome new sports bras and booty shorts that are perfect for summer, but I think we are most excited for our newest male stretchy Jorts, which are now available in camo! We launched our Denim Stretchy American WOD Jorts last October, and sold out in an hour and a half. The men went crazy over them. Since the launch of the male Jorts, all the women wanted jean shorts, too. We obliged, and we are introducing two styles with this launch. One, the Freedom, is a bit longer and more fitted, and the other, the Liberty, is a bit cheeky with a fringed bottom. But while the men's Jorts are designed to be workout shorts, the women's jean shorts are really more for casual, practical wear. For now …
WHY IS IT IMPORTANT TO YOU TO HAVE SO MANY FEMALE EMPLOYEES?
We have 14 total employees, including Bear's brothers, who are part owners. But of the 10 full-time employees who come into the office every day, eight are women. However, it happened naturally; a lot of the people we hired were friends or friends of friends, and even of those we interviewed, the best candidate for the job happened to be female. We have simply had more women show interest, but the males we have hired have proven their worth and work just as hard as our females. However, I will say that it has been very helpful to have so many females on our staff because it makes it super helpful for when we develop new products and receive samples. We allow all the girls to try things on and we get immediate feedback from a variety of perspectives, which helps us fine-tune the product and make it even better for final production. We have a great crew overall!
---