From a Pair of Homemade Compression Shorts to Launching a Training Shoe: An Inside Look at Born Primitive's Journey in CrossFit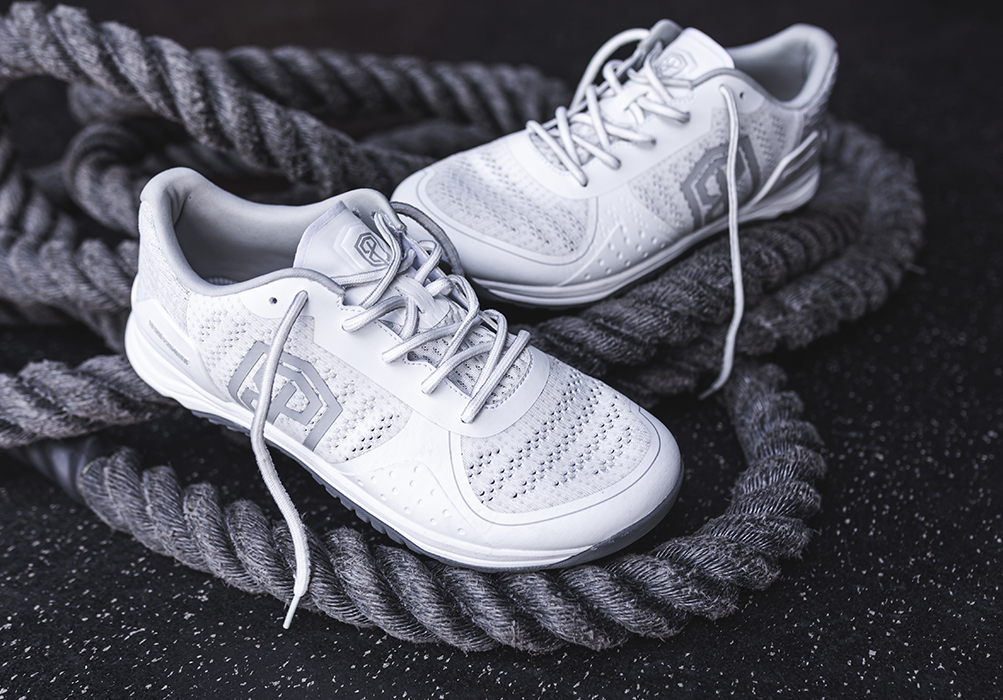 After falling in love with CrossFit, Bear Handlon had an idea to make himself a pair of compression shorts. 
His neighbor was a seamstress, so he took her his fabric and his idea and she generously stitched his shorts, as Handlon enjoyed a gin and tonic on the balcony with her husband.
Little did Handlon know, those compression shorts would become the start of his nine-figure apparel company, Born Primitive, which he founded in 2014 and today has 75 employees and distribution centers around the world, from Virginia Beach to Canada, the UK, Europe, Australia, South Africa, Israel and the Middle East. 
"It has been a grind. Lots of late nights and early mornings

 

and a lot of stress and hard work. But we're really proud of what we have built," Handlon said. 
Handlon admits it was never his intention, let alone his dream to start an apparel company.
"It was a bit of a fluke," said the U.S. Navy veteran and Born Primitive CEO. 
He didn't even intend to start making compression shorts. He was happy with the one pair his neighbor made for him, and his plan was to wash them a couple times a week.
But then some of his friends at the gym started encouraging him to make more because they wanted to try them.
"That's how it all started…But there was no grand plan or a vision (to be in) CrossFit,"

 

he reiterated.
So, without a vision or a plan, Handlon and his now ex-wife who is still his business partner Mallory Handlon, officially founded Born Primitive in 2014.
They started with compression shorts, and moved into other types of apparel, t-shirts and tank tops, and eventually to "performance apparel to meet the demands of rigorous training," Handlon explained. 
In those early years, Bear and Mallory set up camp "at every single Regional competition" to gain brand awareness in the CrossFit community, never asking for outside capital along the way.
"We bootstrapped this from the beginning

 

and have had to be very careful how we allocate resources," he said. 
Nearly 10 Years Later
It paid off.
Today, Born Primitive is a household name in the CrossFit community, and has even branched into other markets.
"CrossFit is still the core,"

 

Handlon explained, but Born Primitive also has a line of clothing for backcountry hunters, and they're launching a line this fall designed for military and law enforcement.
Along the way, Born Primitive has also donated more than $1.2 million to various causes, including support for military and first responders, as well as cancer research and prevention. And during COVID-19, they raised close to $200,000 to support gyms who were forced to close. Further, in 2022, they released a line of training apparel for larger bodied athletes. 
Most recently, Handlon has been designing and launching their first ever Training shoe—the Savage 1—which will be available this August, but pre-sale is live now.
"I always wanted to do it, but didn't have the bandwidth to take it on.

 

I didn't want to do it before we had the expertise to make sure it was a good product," Handlon said of his long-time plan of launching a shoe for CrossFit athletes.
For a long time, he held off because he felt like "you have one shot," he said. "If the first version isn't good, people won't come back."
But after being patient for a number of years, Handlon felt the time was right. So he hired a team of shoe engineers and spent the last two years dedicated to making the perfect shoe for CrossFit athletes.
The Making of the Savage 1
Like many long-time CrossFit enthusiasts, Handlon tried all the popular training shoes for years, and didn't like the trend that they had become "bulkier and bulkier," he explained. As a result, "we decided to make our own," he said. 
Handlon's idea was to create a "a training shoe that had all the best features compiled from a variety of shoes on the market," which ultimately meant a shoe that was both lightweight and stable. With that idea in mind, he "cherry picked" those features from other training shoes before presenting his idea to his team of shoe engineers two years ago. 

And so began a process of trial and error that started with three different prototypes the engineers designed based off Handlon's initial concept. 
"Then we honed in on one version and threw out the other two

 

and then started iterating off that version," he said, adding that the process also involved various CrossFit athletes testing the shoe and providing feedback. 
Once they got closer to feeling like it was perfect, they began tweaking details like the tread, the upper fabric, the logo placing and "other aesthetics," he said. And after two long years of research and development, the Savage 1s are finally set to launch this August.
"Was it a big financial risk? Yes. It is.

 

There's a lot of human capital time that goes into it and there are huge minimum orders, which is why we were so methodical. But if you want to win you have to play hard, so we're not afraid to take a little risk and keep our foot on the gas," he said.
Risk aside, Handlon said he couldn't be happier with the outcome.
"I think we nailed it.

 

The goal was to create a shoe (that works) regardless of what you're training that day. You can throw these on and you're covered. You don't have to go change your shoes in the middle of a workout," he said. 
And ultimately Handlon is hoping this is just the beginning of Born Primitive's shoe game.
"We want to continue to grow this. We want to be a titan in the footwear space. We're just getting started," he said.
---