How One Veteran-Owned Apparel Brand Is Giving Back to Gyms All Across America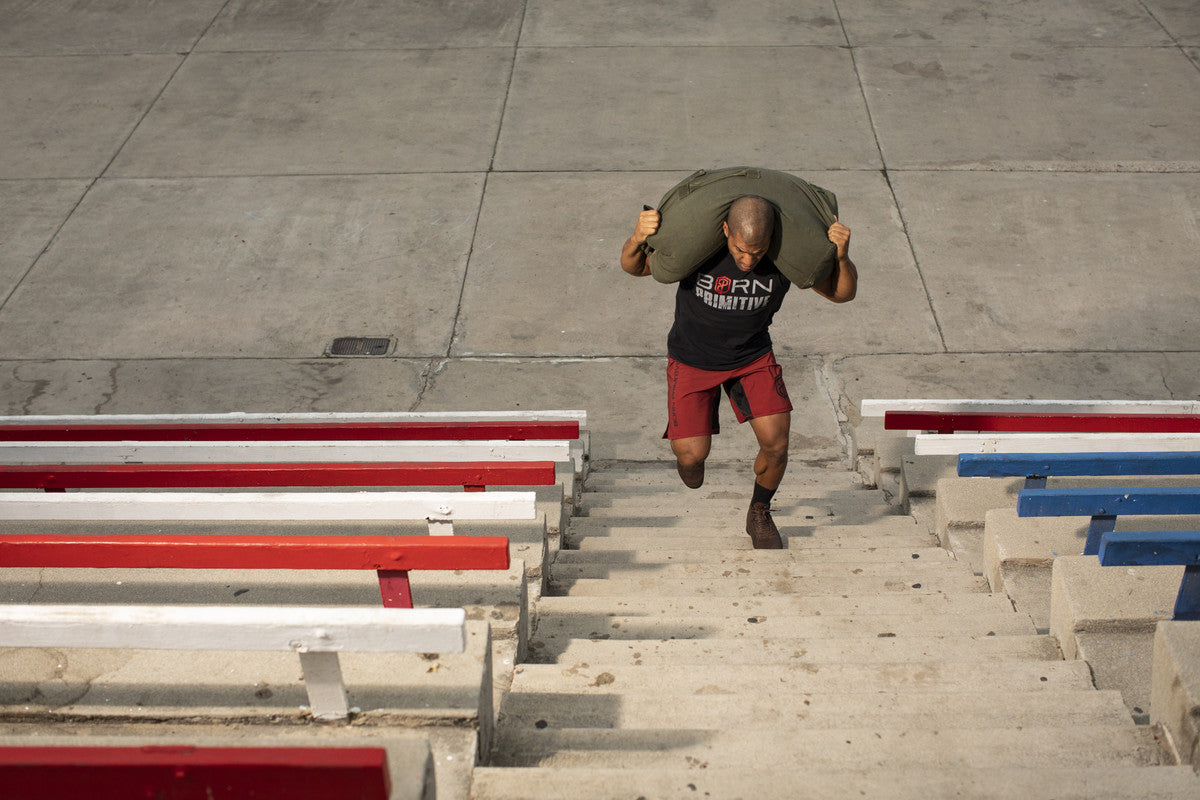 The past few weeks have been tough on local gym owners and the fitness community. With only 10 percent of gyms in America being able to operate at all, many owners are wondering if they'll come out of this struggle with businesses still intact.
Because of these issues, many brands in the fitness space are stepping up to help out.
One of those brands, Born Primitive, donated $186,000 to the cause in just 10 days during their "Back the Gyms " Stimulus campaign.
Born Primitive, an active-duty-owned fitness apparel brand, began raising money for the stimulus campaign on March 18th. During that time period, they pledged to donate 50% of all profits to the initiative. They also spread word of the campaign among their customers, and those customers stepped up to support.
With the help of these donations, as well as the various campaigns being conducted by other brands in the space, gyms will be able to rest a little bit easier knowing they have the support of their communities at this time. Here's how Born Primitive was able to make such a major impact.
Priorities In the Right Place
Born Primitive isn't a stranger to charity, having contributed over $500,000 to charitable causes over the past four years, most consisting of support for military, first responder, and cancer research charities. But the $186,000 raised since March is the largest amount they've ever raised in such a short time period.
When the company first opened, they knew giving back would be a major part of their brand. Bear Handlon, co-founder and CEO of the athletic apparel company, stated, "We founded this company 6 years ago. From day one, we knew we had to be more than just an apparel company. We said we're going to give back and we're going to stand for something. We've lived up to that commitment."
With their early commitment to helping people, the decision to support local gyms right now was an easy one. They knew they could make an impact, so they got to work right away raising money.
Athletes of All Kinds Support Each Other
The fitness community is extremely tight—especially the CrossFit community. People in that space frequently come together to support each other. Handlon commented on how the response they received during their "Back The Gyms" Stimulus is indicative of that strength.
"The response we got from our stimulus campaign truly blew us away, and it really showed how strong this community is," Handlon stated. "It proves to us that in times of adversity, people are going to come together and help each other out. Together we are strong."
Nearly every athlete has experience with teamwork. When trying to achieve a goal or set a new personal record, it's motivating to have a support system that cheers you and encourages you to not give up. This same thing is happening right now while gyms are closed. The fitness community is sticking together and helping to keep small gyms from going under.
Getting Through Challenges Together
If anyone understands how to struggle through a difficult time and come out on top, it's athletes. Athletes are willing to endure what most people are not because they understand that challenges make them stronger. They understand the grind is necessary to ultimately achieve their goals.
Athletes also understand the importance of working together as a team, and this mindset came into play as Born Primitive received tons of support when they announced their plans to launch the stimulus campaign. The fitness community knows how to work through a tough moment, and they knew they would have to support each other during this time.
Handlon remarked on the strength of the fitness community, stating "I think the pain and suffering people can endure together in a gym creates a pretty unique bond. It becomes a shared experience, and in time, your daily trip to the gym becomes so much more than that. Today's crisis happens to be outside the gym, but people are still embracing the same mentality of working together to push through the pain."
Many individuals choose to begin their active lifestyles after going through something difficult. The physical challenges of exercise mirror the challenges in the rest of life, so it's an immensely therapeutic activity.
Not only are there physical benefits for those who become active, but the fitness community also becomes a family for those who need it. Some people need help coping with major life events, while others need strategies to battle mental illness. All of them find support with the people they meet at their gym or box.
After receiving the benefits, members of the community are ready and willing to give back. They know that if they stick together, they'll come out of difficult times stronger than they were before.
Looking Forward, Not Backwards
As any athlete knows, you don't look backward during a race. You always look at what's in front of you and work hard to cover the ground you need to. While the future of gyms for the next few weeks and months is uncertain, Born Primitive is ready to help where they can.
Handlon commented, "Our brand will stay true to our ethos. We believe in helping people and supporting causes that are meaningful to us. Brighter days are ahead. We just have to keep pushing forward."
With the level of commitment the fitness community has to each other, it's safe to say athletes, gym owners, and fitness brands alike are sure to get through whatever challenges come their way.
---